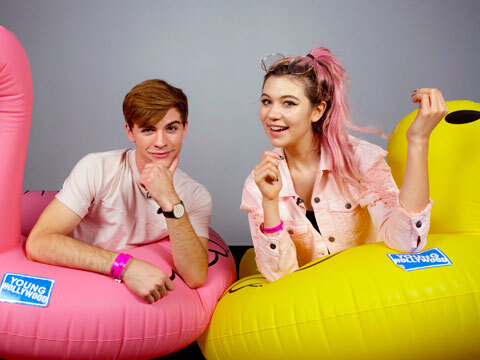 Jordan Doww & Jessie Paege Play Why So Emotional?
YouTube stars Jordan Doww and Jessie Paege team up with YH at VidCon where they challenge each other to a game of "Why So Emotional?" where they read tweets and the other has to guess which emotion they are conveying! Plus, Jordan reveals his favorite thing about VidCon and Jessie dishes on her sock collection!
Timothy Granaderos & JC Caylen Play Why So Emotional?
YH catches up with stars of Go90 series "T@gged", Timothy Granaderos and JC Caylen, at VidCon to put their acting skills to the test with a few round of "Why So Emotional?", where they choose an emotion at random and read a tweet about themselves, and the other person has to guess which emotion they're conveying! Play along at home!
Joey Graceffa Plays Truth or Dare
We're hanging out with the one and only Joey Graceffa at VidCon where he is spilling all the tea about himself and Season 2 of his hit YouTube Red series, "Escape the Night"! Find out which fellow YouTuber he would date, hear him freestyle rap, and get the deets on his exclusive nail polish line!
Lisa & Lena Reveal Their Top Musical.ly Tips
YH is hanging out with Lisa & Lena Mantler at VidCon where they give us some tips on how to make an awesome musical.ly (and what NOT to do), plus they reveal other interesting facts about each other, like which one of them prefers makeup, which one is able to laugh at themselves more, and which one is the most chill!
Liza Koshy Reveals Choice Filters & Emojis at TCAs
YH catches up with top influencer Liza Koshy on the red carpet at the Teen Choice Awards, where she is feeling good and looking fly! She reveals her go-to choice emojis, selfie filters, and summer jams, plus she shows off some of her killer dance moves!