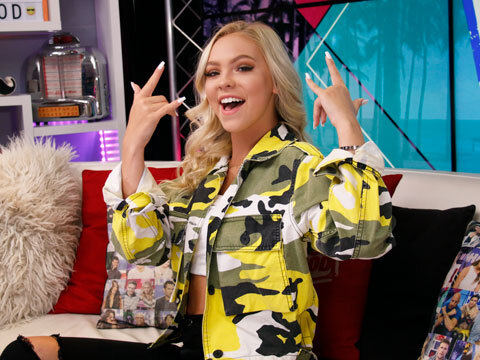 Jordyn Jones Reveals What It's Like to Date Her
The "Bad Lil Mama" herself, Jordyn Jones stops by the Young Hollywood Studio to discuss her hot new single and how we, too, can be a "hot lil mama"! She also scoops us on her tats and dream collabs, plus she describes her ideal first date, reveals her guilty pleasure, and more!
Why Kandee Johnson's Makeup Schedule Revolves Around Bruno Mars & Cardi B
The gorgeous and glamorous Kandee Johnson graces the Young Hollywood Studio to fill us in on her Lifetime series "Glam Masters", where she and other beauty makeup artists compete for a chance to collab with none other than Kim Kardashian, who also executive-produced the show! Kandee also talks about how YouTube has changed since she first got her start doing makeup tutorials, plus she reveals what song she is obsessed with right now!
Lele Pons Plays the Internet Slang Challenge
We're hanging out in the YH Studio with viral sensation Lele Pons and we decide to put her knowledge of all things online to the test with a little Internet Slang Challenge! See if she can define such popular terms like "bae", "FOMO", "OTP", and more!
Lele Pons Talks Camila Cabello, Shakira, & Christmas
The amazing Lele Pons returns to the YH Studio to scoop us on all her crazy adventures since she last visited us, including music video appearances for the likes of Marshmello, blink-182, and Camila Cabella, as well as her stint as a judge for the Miss Universe pageant and being named one of Forbes' 30 Under 30! Plus, she explains her process for creating Instagram videos, reveals what she wants for Christmas, and wows us with her spot-on Shakira impression!
Why Liza Koshy Thinks Barack Obama Is Sexy
The YH Studio gets an extra jolt of sunshine when the delighful Ms Liza Koshy stops by to tell us all about her exciting new projects, including her co-hosting gig on MTV's reboot of "TRL", and how her gap year during college became gap years! She also dishes on meeting President Barack Obama and describes what he smells like, plus she talks about her character Violet Adams from Hulu's "Freakish"!